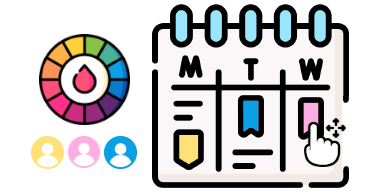 We included new amazing features in the Planning

---
We want to introduce you to the latest additions we have included in the software.
Thanks to the feedback provided by our hundreds of users spread across the globe, we can have an impressive overview of the pet business worldwide and implement the best processes in the software for professionals.
Surely, you are familiar with our famous planning or agenda. Famous because once you try it, you don't want to use any other for managing your business.
You already know that it allows you to quickly schedule and edit appointments and view all the information for each appointment:
Appointment details

Customer

Pets

Transportation options

And much more.
And of course, it also allows you to:
Contact your customer directly (Phone, WhatsApp)

Direct access to customer and pets.

profile

If it's an appointment: Start the service directly. If it's a service: Finish that service and be able to charge/invoice.

Since it records the start and end times of the service, you can check this information in reports to know the average duration of services, services performed by each employee, and much more.
For Training and Grooming software, you can view the schedule for all employees (groomers, trainers/educators) or individually for each of them.
Now, to quickly see the appointments/services assigned to each employee in the view of all employees, if those employees have set a flag or color label, you will see that appointment/service highlighted with that color.
(And in the legend at the top, you will see each employee with their respective color.)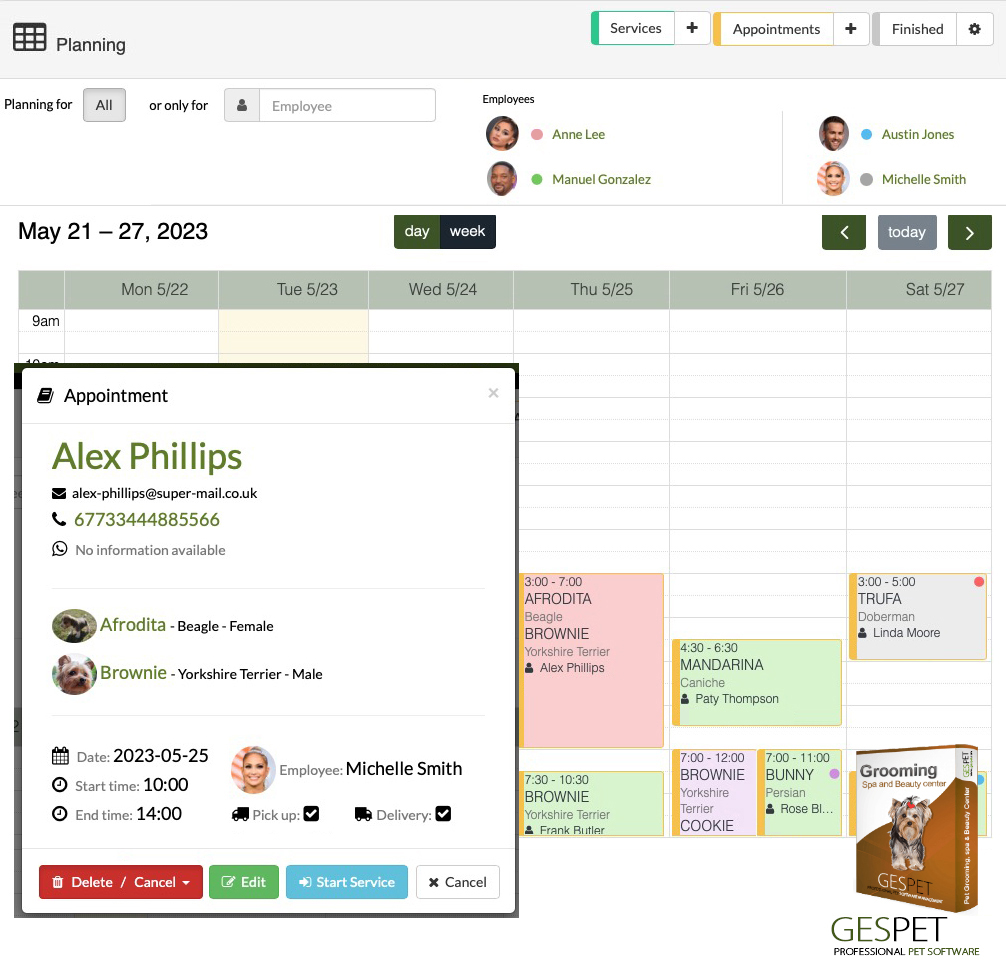 Planning or agenda for pet groomers
Furthermore, if you want to view completed or past appointments/services, you can also see them in the schedule. (They will be marked in gray color).
This option is configurable, you can choose whether you want to see them or not, and you can access the configuration option directly from the schedule.
As you can see, these may seem like small changes, but they result in GREAT improvements in the efficiency, planning, and organization of your business. They facilitate your daily management tasks so that you can focus on what truly matters: your business and your clients.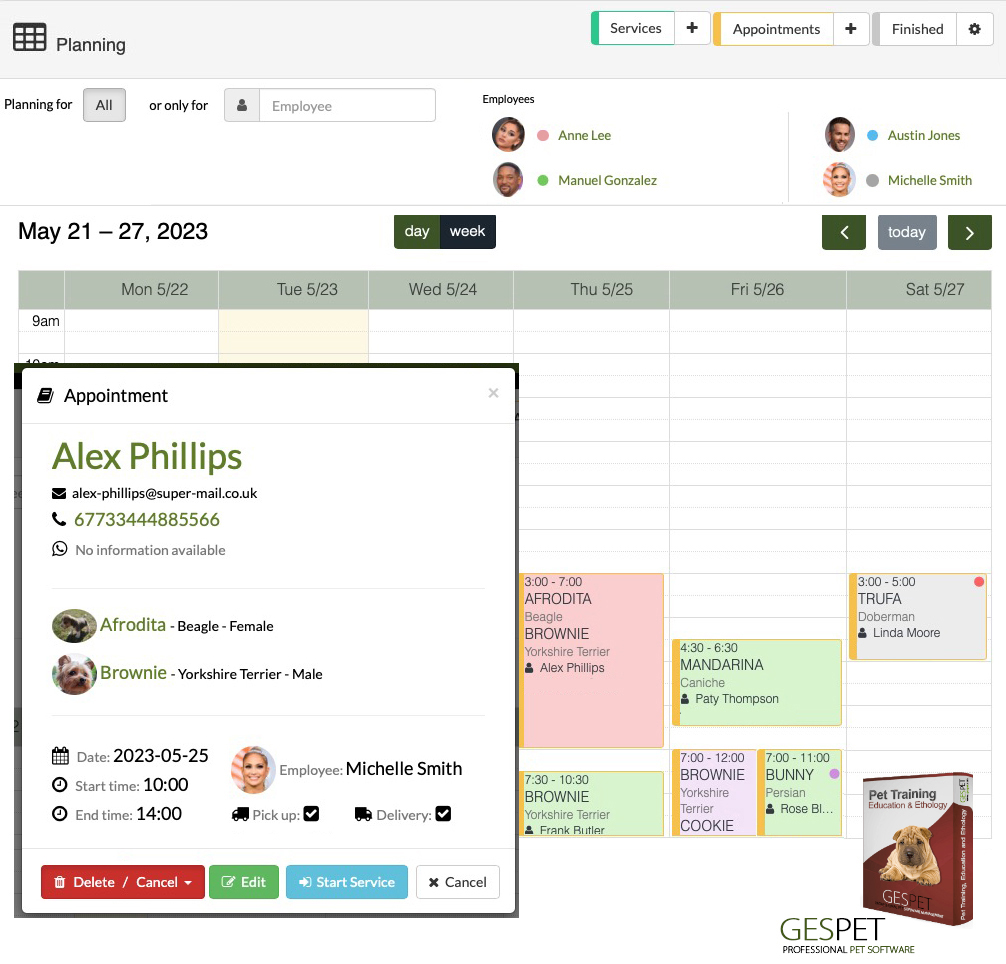 Planning or agenda for pet trainers and ethologists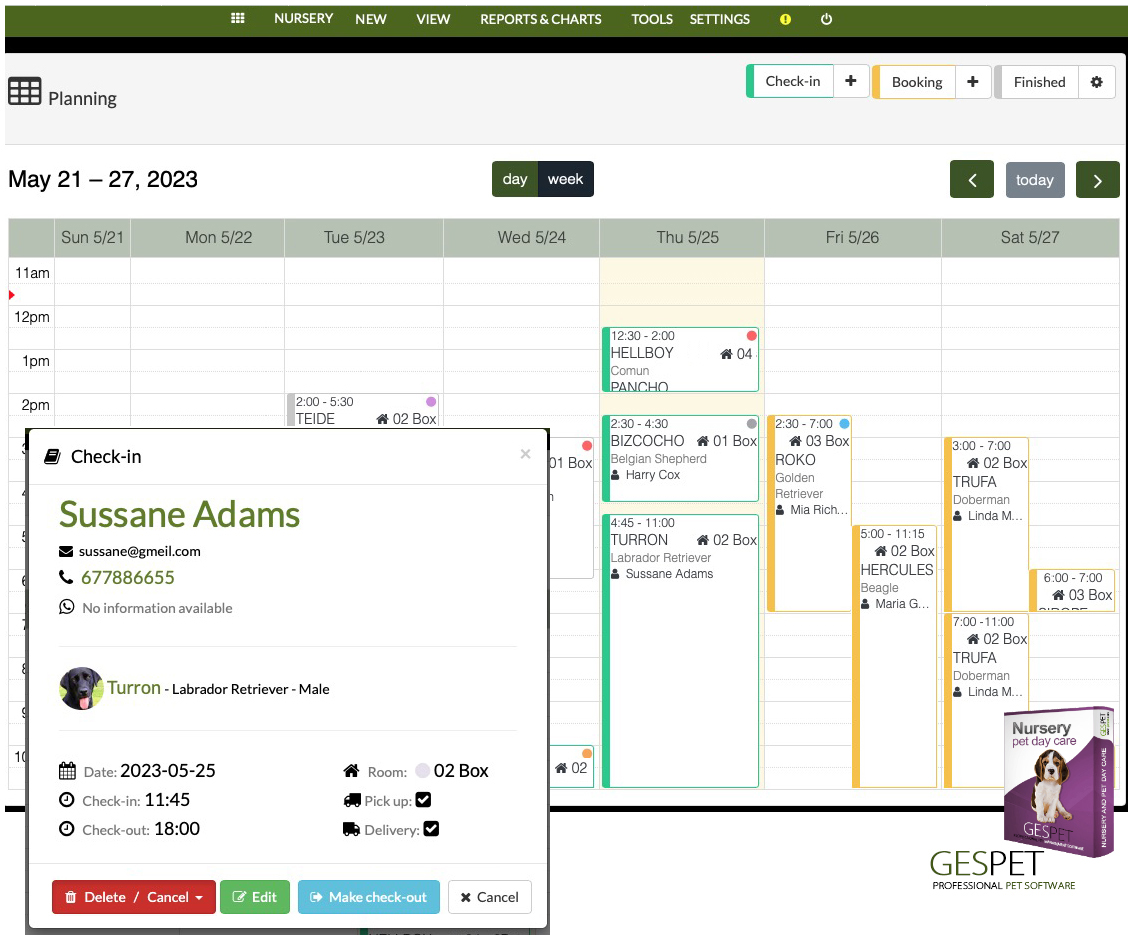 Planning or agenda for pet nurseries and pet sitters
Do you want to read more information about the new shiny plannings:
Pet Grooming: click here
Pet Training: click here
Pet Day-Care: click here
Pet Grooming: click here
Pet Training: click here
Pet Day-Care: click here
Did you find it interesting?
If you have any questions, you want to propose that we write a help guide or a post on a topic or you just want to chat with us, don't hesitate. We are delighted to talk with you and get your opinion.








LANGUAGE
---
CATEGORIES
---
POPULAR POST
Configurable online booking form and GDPR
April, 24, 2018
Happy International World Internet Day
March, 17, 2020
October, 20, 2019
Pet Business – Payment of taxes
September,04, 2019
July, 05, 2019
What are the mandatory data of an invoice?
June, 13, 2019
Difference between ticket and invoice
May, 15, 2019
The software fits to your device screen size
May, 03, 2019
---
FOLLOW
JOIN OUR TEAM
Follow us on social media and join our mailing list for advice and tips to run your pet-care business
---
TAGS:
grooming agenda
grooming planning
pet training agenda
pet training planning
animal care agenda
animal care planning
pet hotel planning
veterinary planning
veterinary agenda
breeding agenda
breeder agenda