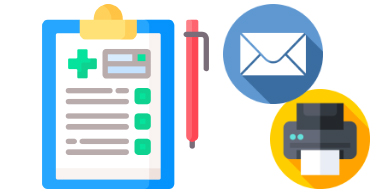 Print the summary sheet document from the main screens

---
We want to introduce you to the latest addition we have included in the software.
As you may already know, the software includes a summary sheet document or dossier with all the relevant information of the Pets, Customers, Suppliers, Breeders and Vets.
This summary document is very useful because it includes the most important information, and you can Print it and Send it via email directly from the software.
It's a request you have made, to print, for example, the pets' dossier and place it on the door of the room or kennel during their stay. This way, you can have at a glance every pet meal requirements, playtime, and important information.
Prior to a grooming or training service, to have the pet's information and owner's contact details "at hand."
For your records, with all the customer and pets info, ... and many more cases.

Print the summary sheet document from the main screens
Do you want to see everything you can send by email and print from the software?
Click here
Click here
Did you find it interesting?
If you have any questions, you want to propose that we write a help guide or a post on a topic or you just want to chat with us, don't hesitate. We are delighted to talk with you and get your opinion.








LANGUAGE
---
CATEGORIES
---
POPULAR POST
Configurable online booking form and GDPR
April, 24, 2018
Happy International World Internet Day
March, 17, 2020
October, 20, 2019
Pet Business – Payment of taxes
September,04, 2019
July, 05, 2019
What are the mandatory data of an invoice?
June, 13, 2019
Difference between ticket and invoice
May, 15, 2019
The software fits to your device screen size
May, 03, 2019
---
FOLLOW
JOIN OUR TEAM
Follow us on social media and join our mailing list for advice and tips to run your pet-care business
---
TAGS:
pet summary sheet document
animal summary sheet document
print animal file
print dog file
send dog info by email
send animal info by email
send pet info by email
print pet info