Complete pet training software handbook
Complete pet training software handbook
Here we explain, "in a few words" how the software works:
The software allows you to manage schools of education, training and services of training/education/correction of behaviors for ethologists and pet educators.
Customer and animal are always associated. Every animal must have an associated owner and every owner must have an associated animal

You can sell courses or packages consisting of multiple sessions/classes or you can sell individual sessions.

For a single session of education, training, behavior correction, .. :

APPOINTMENT AND SERVICE

The customer can make an appointment and when that date arrives, bring the animal to the center to do the education/training service

But you can also start the service without appointment.

SELL AND INVOICE

For a course consisting of multiple sessions or classes, a package of multiple sessions, ...:

SELL AND INVOICE
APPOINTMENT AND SERVICES

You can plan the different appointments in the planning

When the appointment date comes, you do the service or training session. The cost is 0, because it has already been paid.

SELL AND INVOICE

Evaluation of each session: You can save the evaluation of the training/education session, add a score, comments, observations, etc.

You can print diplomas to increase the motivation of your students.
SUMMARY GRAPH: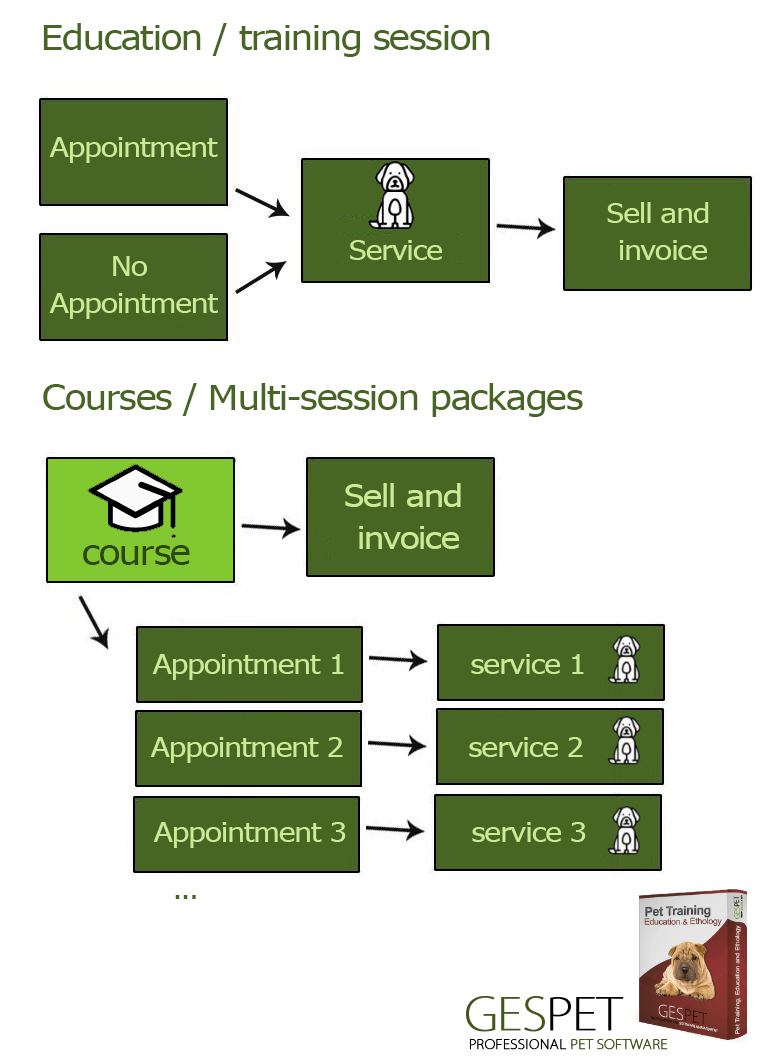 In the top menu you can access all the options. On the main options are drop down with additional options.

TAGS:
manage dog training | manage pet training school | training for animals | pet training professional software | dog training professional software | pet trainer app | pet training app | dog training app | how to manage a dog training business | mobile pet trainer software | software for mobile dog trainers