STEP 5.
1. LITTERS AND PUPPIES
When the puppies are born, you can turn the planned litter into an "open" litter.
If you don't want to make planned litters, you can directly write down the litter when the pups are born.
When you select a litter, the litter's magic desk or "home page" appears, a screen with all the information and many additional options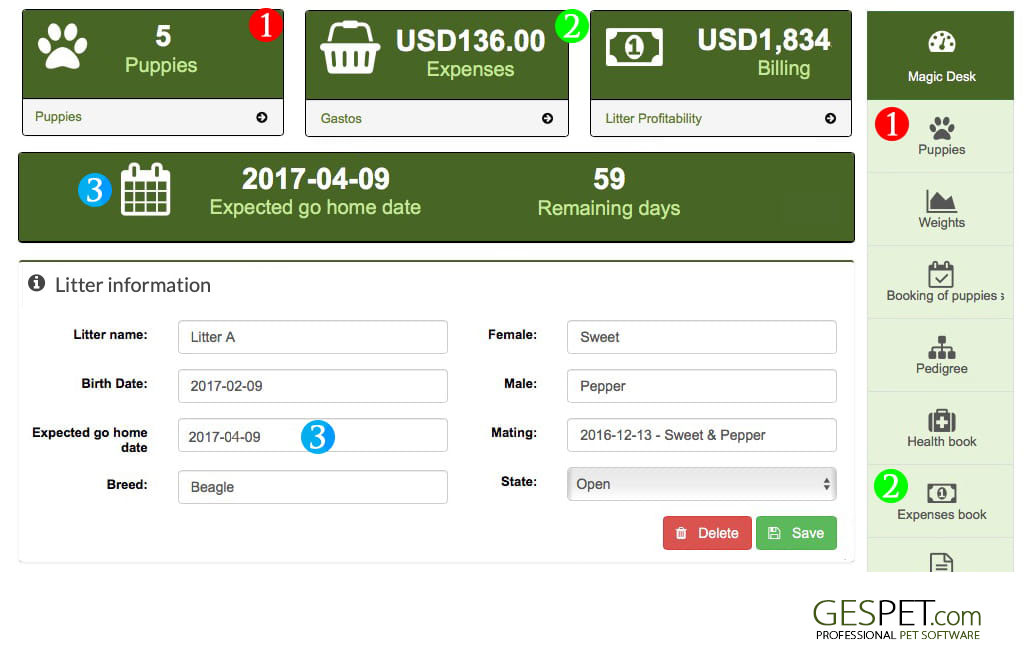 In the right menu you can:
Puppies. Add the puppies and see the status (Booking, sold, available, ...)

    

Weights. To record and consult the evolution of weights and size of the puppies. The software will show it in a graph in real time




Expenses book. Add the expenses for that litter (for example veterinary treatments, vaccines of those puppies, feeding of that litter, etc.)

Health book: you can write down and consult everything related to the health of that litter: treatments, consultations, vaccinations, etc.

Genetic lines or Pedigree.The pedigree of the puppies is generated automatically, taking the one of the parents
Read the complete handbook for more information
2. BOOKING
You can add a new booking also from the option New > booking. They can have deposits of money or not have them and they can be associated with a puppy, a litter or without associating anything.
If a customer wants to book a specific puppy that has already been born, you can reserve that puppy.

If a customer is interested in a puppy that may be born in a litter, then the reserve is associated with that litter.

Or it may not be associated with anything.
Read the complete handbook for more information