STEP 4. VIEW THE PLANNING OR AGENDA
From this option it is possible to see the agenda or planning with all the appointments and services.
You can directly add a new appointment or a new service, by clicking on the "+" button located in the upper right.
The buttons in the central part allow you to change the view: daily, weekly, ... and navigate between the different days/weeks.
By default the complete agenda appears, but if you want, you can see only the agenda of an employee/groomer, using the search engine at the top.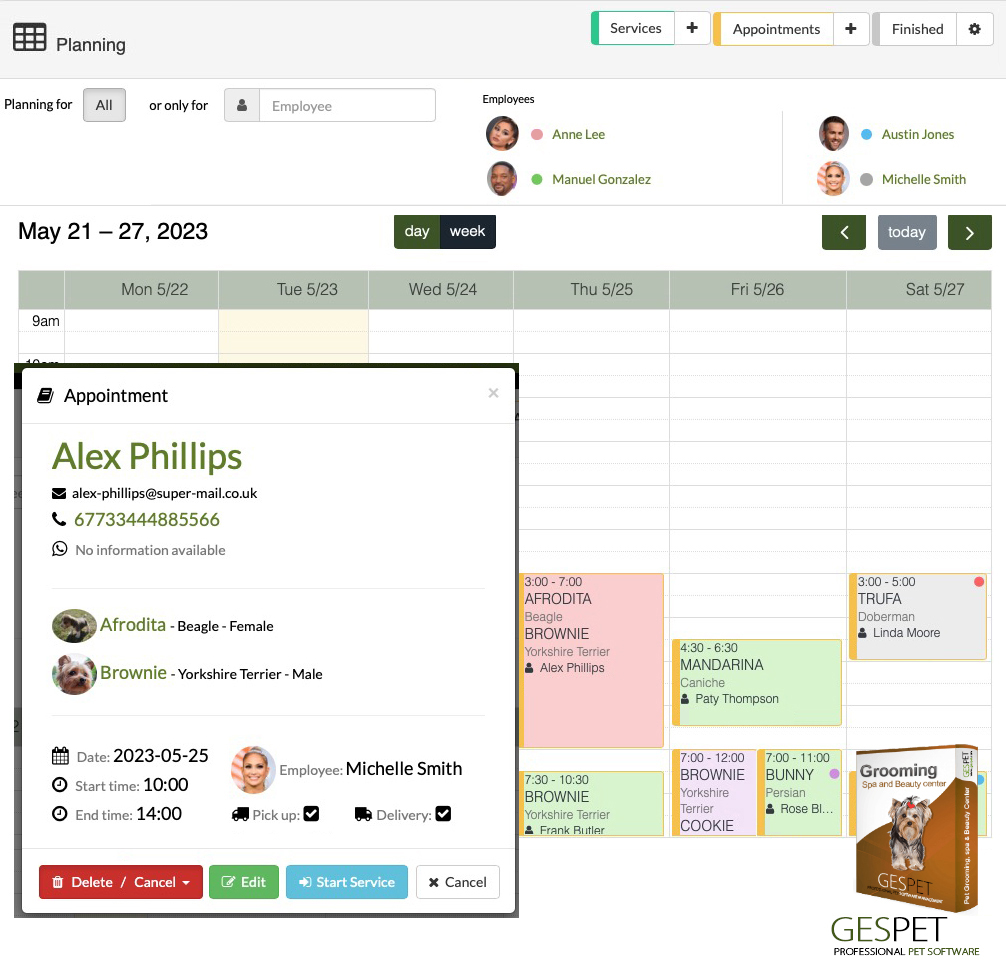 If you use a color to identify your employees, you will see that in planning, appointments / services are highlighted with the color of the employee.
For example, you will see which appointments are assigned to Employee1 (green background) or to Employee2 (red background).
Also, if you want to identify the appointments/services by color, you can do it and you will see a small circle with that color in the planning.
For example, I mark with a red color the appointment of a client who is always late or has pending payments. In the same way as in clients, etc. You can use the colors to identify the appointments / services as you prefer.
You can drag & drop appointments and services to change the day/hours. And you can also drag & drop to change the duration.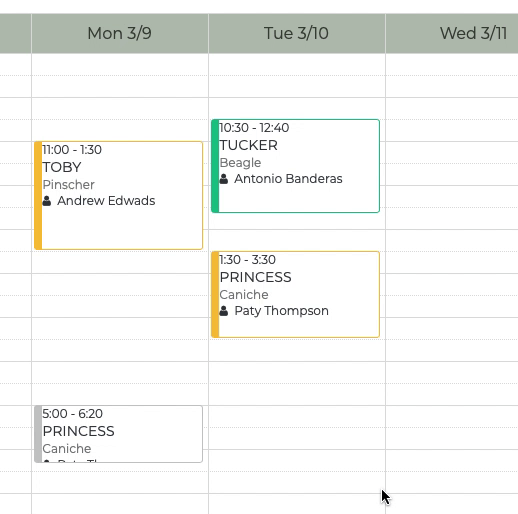 If you click on a appointment/service, more information and available actions appear:
The customer name and his basic contact information

The animals

The date and hours

The groomer/employee assigned to that appointment
By clicking on customer and animal names, its tab opens in a new browser window.
If you click on the phone or whatsapp, you can call or contact WhatsApp with the customer, on compatible devices.
You can configure several parameters of the planning:
If you want to see the old services

The range of hours shown in the planning, for example from 09:00 to 20:00
How to configure the planning
NOTIFICATIONS IN THE HOME PAGE
In adition, on the home page, the appointments for the selected day appear.