STEP 8. VIEW ALL DATA
The software stores all the information, to show you a lot of useful information. For example:
CUSTOMER SHEET
On the CUSTOMER SHEET, you can see the number of sales, the amount of money billed, the last sale and much more information
In addition, you can contact the client directly, by clicking on the email, phone or whatsApp (to send an email directly, make a call or send a message using WhatsApp).


UNPAID BILLS
If a customer has PENDING PAYMENT INVOICES, before making a sale, a message will appear indicating unpaid invoices and the amount.

You can also view all unpaid invoices in the Report > Unpaid invoices
ACCOUNTING
ACCOUNTING is very easy. If you consult the Result report, you will see all sales or invoices and expenses that you have entered.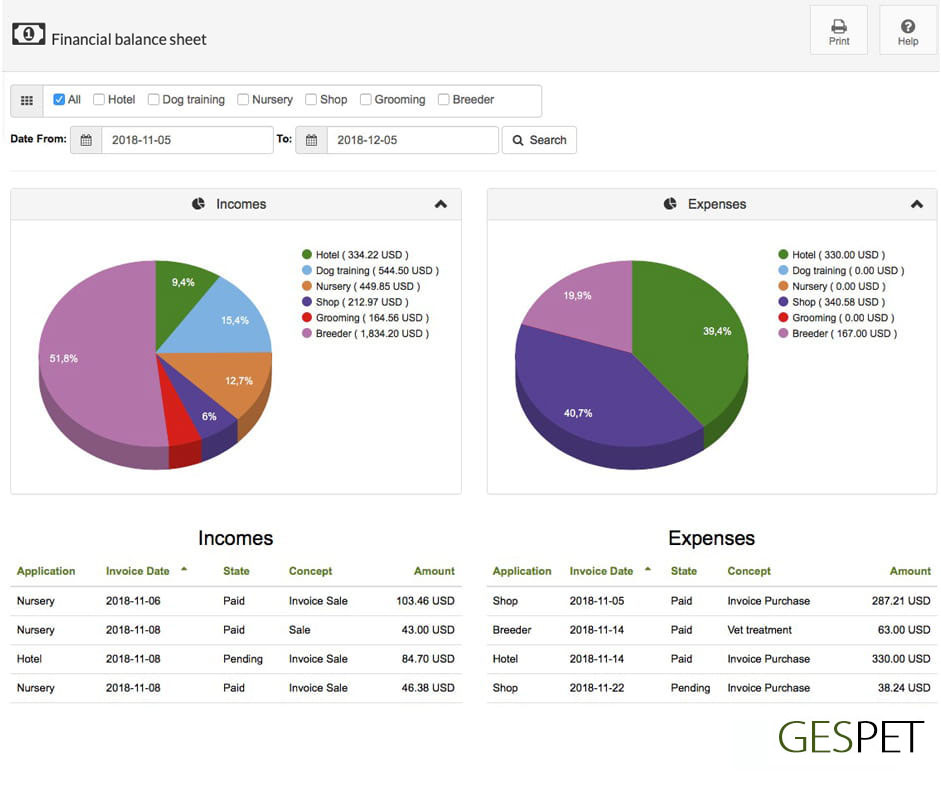 THE MOST PROFITABLE CUSTOMERS AND PRODUCTS
You can see the MOST HABITUAL AND PROFITABLE CUSTOMERS AND PRODUCTS, using the report of profitable customers and animals.
You can even see, those who have not visited your business for a long time, to send them an email, for example, offering your services.
THE HOME PAGE
You can see for a specific day, The number of sales (or tickets) of that day, The amount of products (or units) sold, the money earned and much more. And all this IN A SAME SCREEN (on the cover or Magic Desk).

As you can see, the software offers you a lot of information, to help you to quickly manage your business in a very simple way.
WHAT MORE CAN I DO WITH THE SOFTWARE?
Congratulations!! You know how to handle the software and here are some other interesting options
For mailing campaigns (sending email to multiple customers), you can use Mailchimp with the data of your customers all stored in Gespet:
Sending emails using Mailchimp
If, in your business, you also sell services (grooming, hotel, nursery/day-care, training/education) or puppys , you can include in the same ticket the services and products from your store.
Click here to see how to sell products + pet nursery accommodations
Read the help manual for more information about all the software features
READ THE COMPLETE HANDBOOK