ONLINE BOOKING
ONLINE BOOKING
How to configure it?
The configuration it's very simple. If you want, you can configure the redirect page of the form, that is, the destination page (the page that will show the user after the customer press the "Request booking/appointment" button).
Just write the "Redirect page" and click on the Save button.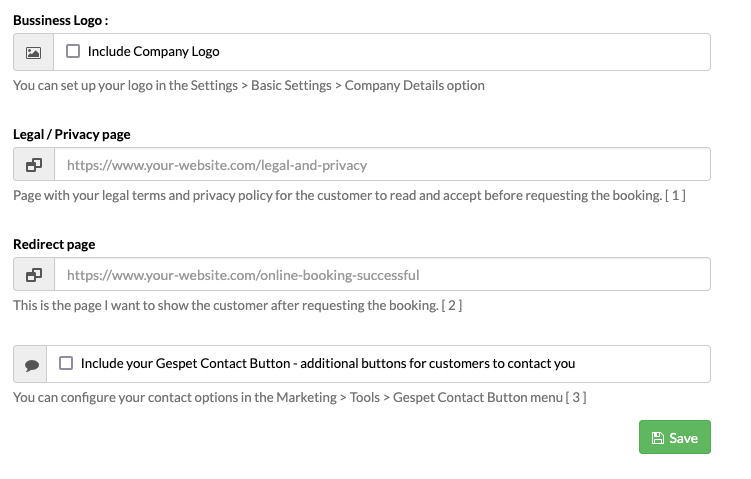 Thus, you can show the user a page with more information about the conditions of service, a page with payment information, a shopping cart, another section of your website, or wherever you want.
If you do not write a page, will not redirect the user to any page, he will remain in it.
You can also configure where are your legal terms/privacy policy, so that the user can read it before accepting it.
The user must accept your conditions before requesting the reservation, and this acceptance "or signature" of the conditions is recorded in your customer file and you can consult it whenever you want.
The user can also select if he wants to receive notifications from you by email.

To view this information, access to the Customer's Magic Desk (View > customers > select the customer > right side menu PRIVACY)
More information about privacy and RDPR:
Clic here
Clic here
Show information after the customer fill out the form
The booking request system does not include payment options, because until the moment you confirm the booking, it is only a request from the customer; But if you want, you can include after the process, payment options or show more information to the customer.
As we have mentioned before, you can configure the page you want to redirect the customer after he fill in the form.
Some of the most common options are:
A payment page to pay a amount or deposit

Interesting information and considerations prior to the stay (vaccinations, ...) and what to bring (passport / veterinary documents, food, toys ...)

If the owner brings the animal to the hotel -> A map, contact details and the time of check-in /check-out.

If we collect it at home -> information about the collection service, time, etc.

A page with advertising about other services offered by our business

Access to any restricted area of our website, if we have it: customer area, access to the webcam if we have a monitoring service.

Simply, we can take back to the booking page or show it the home page,etc.
TAGS:
pet hotel online booking configuration | pet grooming online booking configuration | animal hotel online booking configuration | pet nursery online booking configuration | pet training online booking configuration| pet kennel online booking configuration | pet grooming online appointment settings