ONLINE BOOKING
ONLINE BOOKING
How does the online booking system works?
This system is free and it's available for Pet Hotel, Pet training, Pet Nursery and Pet Grooming software.


1. Just paste a code on your website, Instagram or Facebook and the online booking form will appear.


2. Customers visit your website Instagram or Facebook and can request reservations at your hotel/grooming/nursery.


A reservation is never automatically rejected, you decide whether or not to accept it.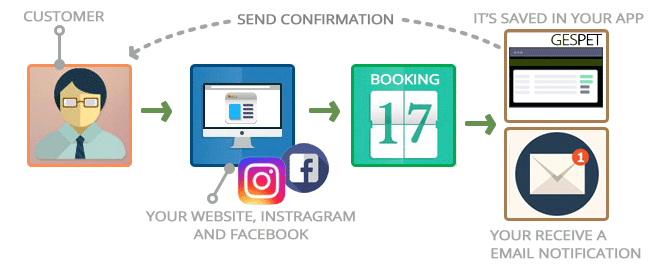 3. You receive an email with all the information.


4. And the booking is registered in Gespet Software.


5. Easily from the same screen, you can:



Check the occupancy of your business

See if the customer has unpaid bills

Call the customer by phone

Contact the customer by WhatsApp

Send the confirmation email if you accept the reservation

Send the rejection email if you reject the reservation
When customers visit your website Instagram or Facebook and request you reservations at your hotel/grooming/nursery, you'll see the new online booking through View > Online booking menu option.
All these online bookings are recorded in your app but not yet confirmed. You have to review the information, check availability and then confirm the online booking into a real reservation. The app will allow you to send an email to the customer with the confirmation message.
This way our system allows you to not automatically reject a reservation in your hotel just because there isn't enough space. Let's see an example.
Any online booking will be automatically rejected, simply because you do not have availability for that date. Imagine that a reservation is automatically rejected from 1 to 30 September, simply because on day 1, the room is occupied.
You decide if you cancel it or manage the space of your residence to be able to accommodate that animal.
Edit what you need and confirm the booking to the customer by email automatically, just clicking a button. Simple and easy.
If you have online reservations pending confirmation, a yellow indicator will appear on the home screen (or magic desk):

In the top menu, a small yellow indicator will also appear:
It is a powerful system because it can be included in any part of the management process of your business That is, if you want to ask for more information to the client before confirming the booking, you can do it.
If after confirming it, you usually send the client more information about the conditions of stay, information to make a booking payment (or a Paypal payment button, for example), or anything else, you can do it. Proceed as you consider and interact with the client as much as you need.
If the customer has an invoice pending payment, an alert box with the information will be displayed. Thus, before making a booking, you will know if the customer has pending payments.

The system is adaptive, so it adapts to the size of the device where it is displayed.
Did you find it interesting?
If you have any questions, you want to propose that we write a help guide or a post on a topic or you just want to chat with us, don't hesitate. We are delighted to talk with you and get your opinion.





TAGS:

pet hotel online booking | pet grooming online booking | animal hotel online booking | pet nursery online booking | pet training online booking| pet kennel online booking | pet grooming online appointment