Sell services and products together on the same ticket or invoice
Sell services and products together on the same ticket or invoice
If you have the PetShop software and other software, using the store software, you can sell on the same ticket:
Hotel Accommodations

Puppies from your kennel

Grooming services

Training or educational services

Daycare/Nursery Accommodations

Veterinary Services

And Products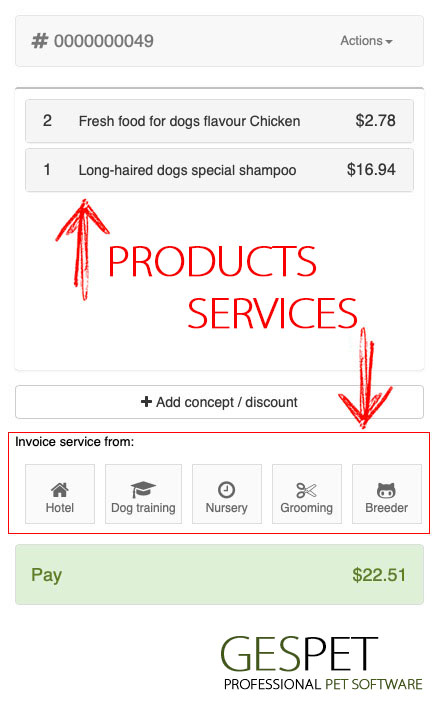 Practical example: Max has been staying at the hotel for a week, during his stay we have also given him a training or education session. When Patrick picks up Roko,he also buys food and a shampoo.
How to sell all these services and products together in the same ticket or invoice?:
Access to the PetShop app

In the new > sale option

Add the products to the ticket

Clic on "Invoce service from" Hotel to add Roko's stay to the ticket




Select the Max's stay and this is added to the ticket

Repeat, to add the training or education service to the ticket
note: remember, only appear the pending services (unpaid), If the service is already paid, you can not charge it again, so you can not add it to the ticket.
You already have the services added to the ticket, ready to pay.
In this example, we have a ticket with 3 products and 2 services from different business areas:
PETSHOP

Fresh Food for dogs - $ 2

Toothbrush for dogs - $ 3

Strap for dogs - $ 20

GROOMING

TRAINING/EDUCATION
The total of the ticket is $ 73, but the products / services are "counted" in their corresponding area:
25 $ in PetShop products

30 $ in Grooming services

18 $ in Training services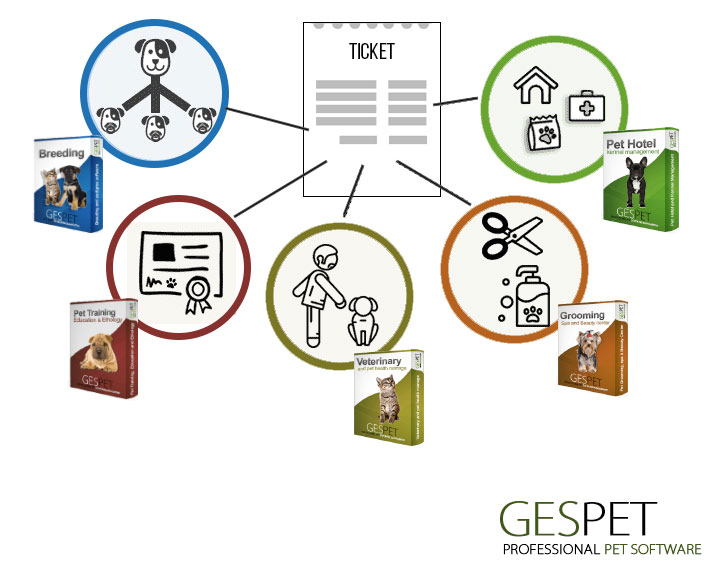 We know that detailed management of income and expenses is a fundamental part of your business, and therefore, using this system, you can check the money you have earned with each business areas.
You can check the total billing, for example last month, in all business areas; But if you prefer, you can check the billing only for hairdressing services.
Note:Remember, that the Cash option is an option available exclusively for the PetShop, therefore, in Cash only appear sales of petshop products
If you want to see the sales and expenses of all the business areas for today, use the "Result" report (Reports > Financial Balance Sheet). You can choose the date range you want to consult (today, the last 7 days, 3 months, ...)
Note: when you add a service to the ticket (for example Grooming) and you charge it, in the corresponding app the service is "closed", that is, its status is now PAID.
Did you find it interesting?
If you have any questions, you want to propose that we write a help guide or a post on a topic or you just want to chat with us, don't hesitate. We are delighted to talk with you and get your opinion.