Billing by nights or by days
Billing by nights or by days
The application allows you to perform billing depending on the number of stay nights or the number of stay days of an animal at your hotel.
We explain the difference between billed "by night" and "bill for days" with a practical example:
Billing by nights
It's the commonly mode used by hotels for people, in which a maximum check-out time is set. From that maximum hour of check-out, an extra stay day will be included.
Example:
In our hotel, the maximum check-out hour is 11 AM (after that hour, we'll charge an extra day)

Toby comes to our hotel on Monday at 6 PM (18:00 hours) and leaves our hotel on Wednesday at 9. AM.
The system calculates 2 units, because it has been staying 2 nights and he left our hotel before the maximum hour (11:00).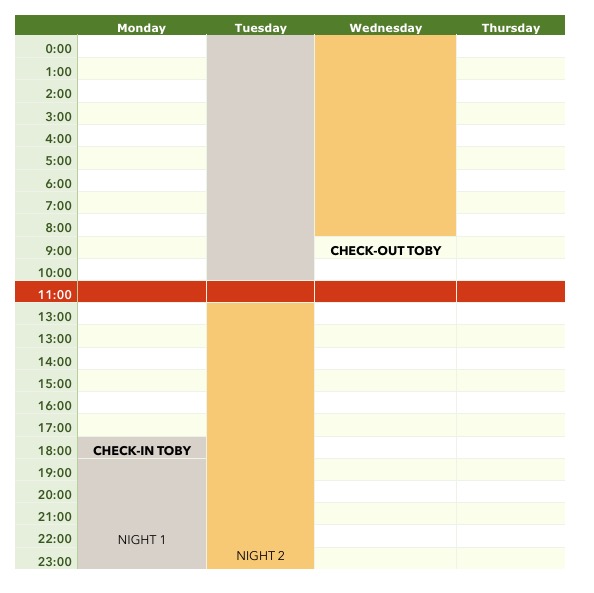 Billing by days
In the same example:
In our hotel there is no maximum time for check-out

Toby comes to the hotel on Monday at 6 PM (18:00 hours) and leaves at 9 AM Wednesday
In this case, the system calculates 3 units.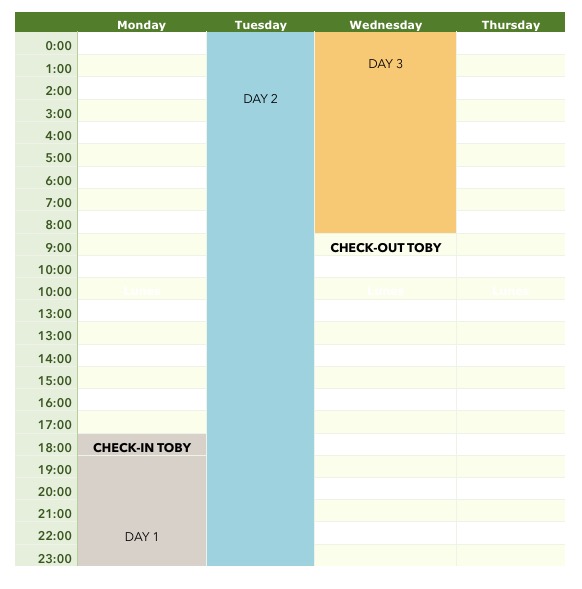 How do you can configure the application to work billing by nights or by days?
This parameter is set in SETTINGS > CHECK-OUT HOUR option.
If you want to bill by days: set as maximum check out hour 00:00

If you want to bill by nights: set the maximum check-out hour as you want, following the example would be at 11 AM, from that hour, the system will add an extra day if the check-out is before 11:00.
IMPORTANT:
If you make a change to the time, this will apply to new bookings and check-ins you enter in the software, but NOT to all previous ones. For example, if before the maximum check-out time was 10:00 and now you change it to 12:00, in previous bookings/check-ins with check-out at 11:00 an extra day of stay will be added, since this way was set when you created that booking/check-in.
This also happens with changes in rates or prices. Remember that if you make a change in any important parameter of the configuration or in the rates, this will not be automatically applied to the old ones; If you want to do this, you will need to manually modify or delete and recreate that booking/check-in.
Did you find it interesting?
If you have any questions, you want to propose that we write a help guide or a post on a topic or you just want to chat with us, don't hesitate. We are delighted to talk with you and get your opinion.