You can create as many rooms as you like in the application and identify with names and colors that you can use to identify them easily.
By default, in every room, you can accommodate all the animals you want in the same stay (animals from the same customer); thus the system controls the occupation.
But if you have special rooms where you want to host several animals from different stays and owners, you can use this tip for configuration:
If your room is #1, you can create:
So you can do three different stays in the same room.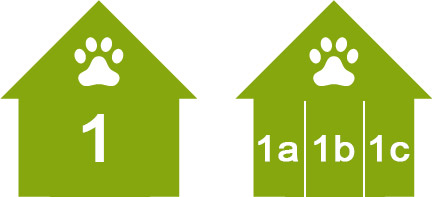 If you have different types or rooms, it will be useful to assign them a color to identify them quickly. As you already know, you can also configure the names you want for the rooms.
For example, if you have Suite rooms, rooms for long stays, rooms with garden and double rooms (for 2 animals), it will help you that each type of room has a special color:
You can set the name to include the number and the type of room: for example room 2 is of the room "Suite"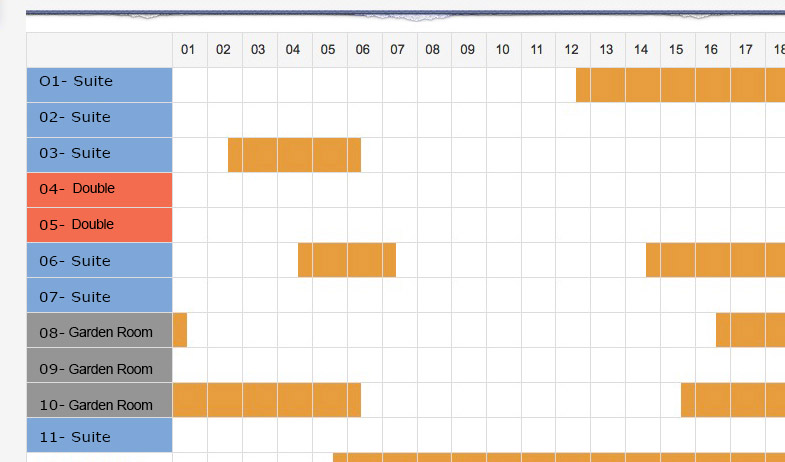 Or if you prefer only the number or the name of the room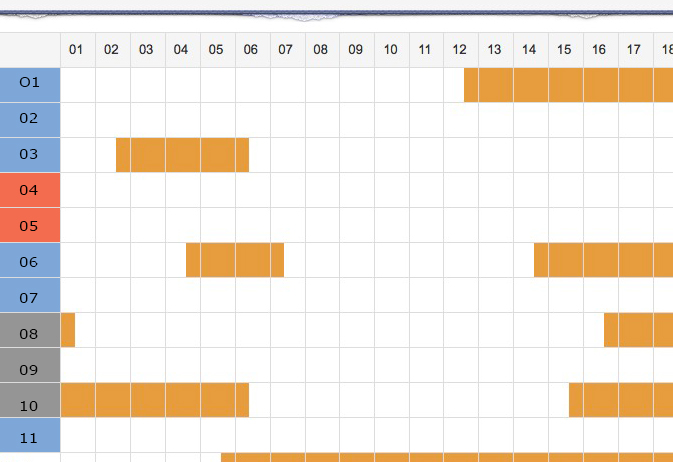 Or even more information if you prefer: the number + the room type + the price per night or per day (for example room 04 is Double and the price is 25$)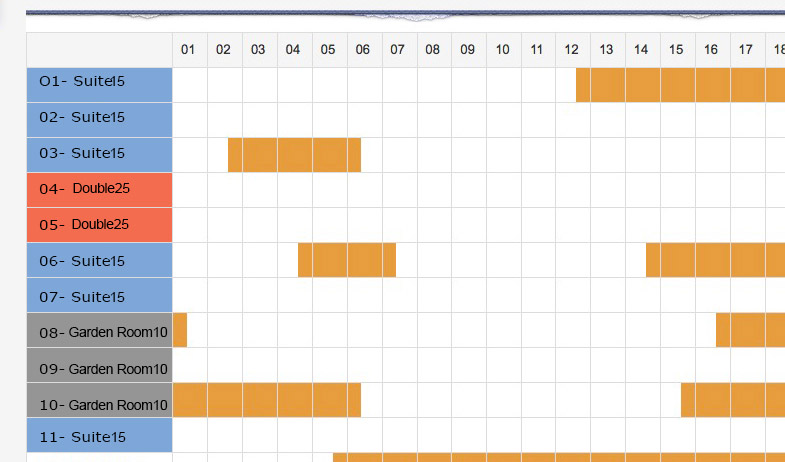 You can configure them as you prefer, so that it will be much easier to identify the rooms when you are going to make a new reservation, entry, view the planning, etc.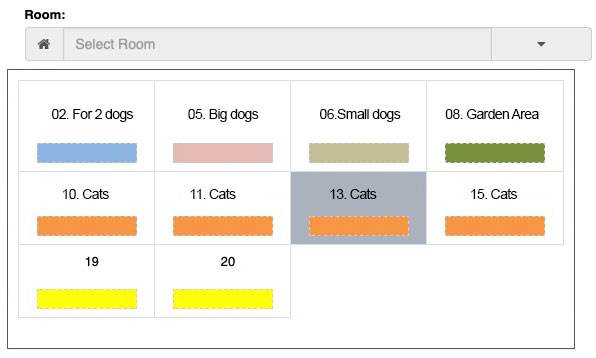 We remind you that to configure the rooms or cheniles (name, color, etc.), you only have to access the option Settings > Rooms.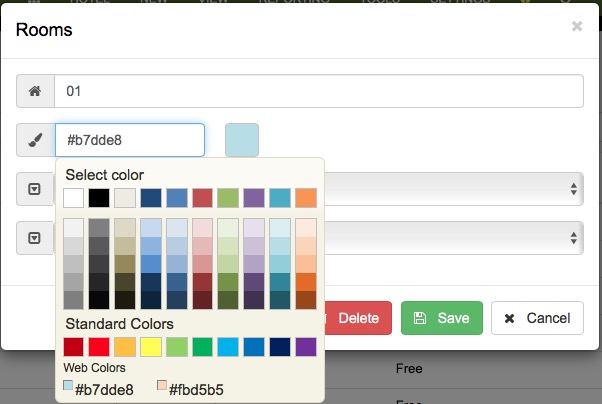 If you have different types of room, they will have different price, for example:
Suite= 15$

Double (for 2 animals) = 25 $

For long stays = 10 $

Luxury room with Garden = 30 $
You can set different prices in the option Settings > Hotel services. So, when you make a booking or an check-in, you select de hotel service and the price for this service appears automatically.
You can find more information about the configuration of services in the help manual
By default the system is not designed to do this because by default, each animal is assigned to a room for the entire stay, in the same way as hotels.
But we know that in exceptional cases, especially in times of maximum occupation, you may need to move an animal from one room to another, due to space problems.
Let's take an example: Bob will be staying at the hotel from July 1 to 25. We have available:
The Room A from day 1 to 20

And the room B from day 20 to 30
Solution: We could move Bob on day 20 from room A to B
We make the check-in by selecting room A from 1 to 20

We put a notice for Bob and the software warns us on the 20th that we have to move Bob to B room




On the 20th, when we have changed to Bob, we modify the check-in and we select the room B
Another possible solution is to create some fictitious rooms for this type of case. That is to say, the room physically does not exist, but we are going to use it because we know that there are gaps and we are going to move an animal between those gaps.
For example, if we create a room that we will call "holes" in our example and in the planning we see that there are small gaps between those dates: we can make the reservation or the entry for Bob in that room and we will move it between the different rooms available.
There are businesses that use the technique of overbooking, that is, having space for 10 animals on that date, they admit 12 reservations (for example), so that, in the event that a client cancels the reservation, they have extra reserves to guarantee the occupation.
In this case, it is possible to do the same as in the previous example, create fictitious rooms: rooms that physically do not exist, but that we will use to admit more reservations. For example we created the rooms "Overbooking1" and "Overbooking2".
For example, in the following image, you can see that in the planning there is no room completely free between days 2-5 but there are several gaps and reservations that begin those days.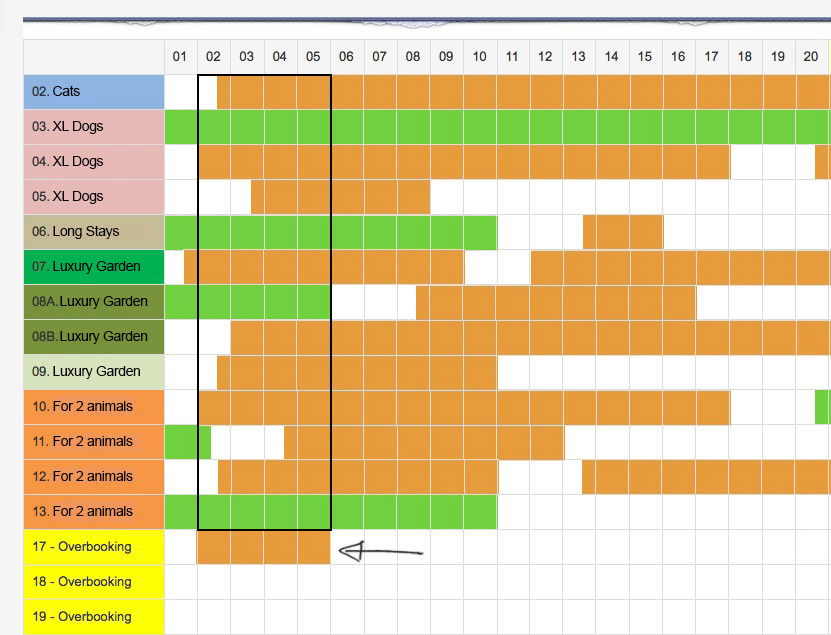 If a client delays the date of entry, it is very possible that there is free space to accommodate Bob those 4 days at the hotel.
In this case, we note the reservation in the fictitious room 17-Overbooking waiting for another room to be left for those dates due to a change or cancellation.
Did you find it interesting?
If you have any questions, you want to propose that we write a help guide or a post on a topic or you just want to chat with us, don't hesitate. We are delighted to talk with you and get your opinion.